Speak To Our AI Car Expert and Find the right products and answers for your car!
What do you need?
Engine oil for my 2012 Audi A4
A Mercedes SLK 200 Oil Change Set
Steps to change oil in my BMW X3
An air flow sensor cleaner
What is Mercedes 229.51 Oil?
My Mercedes Won't Start
My Audi TFSI engine has a problem
The Best Engine Oil For Your Car
Find The Best Engine Oil For your Car
Don't know the exact details of your car? Talk to an expert on our live chat or complete the form.
Any other questions you can also email us at help@mycar.repair.
Get The best Oil Recommendation From Our Experts
Get a personalised recommendation for your car from our expert mechanics now!
Expert Advice, Knowledge and Tutorials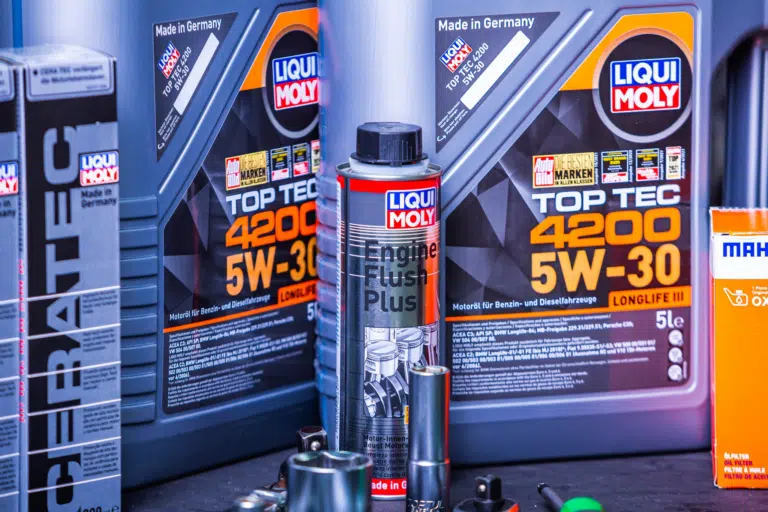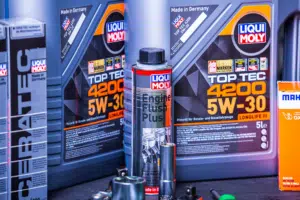 Buyer's Guide
Discover the Liqui Moly Top Tec 4200 5W30: an in-depth guide covering its unique features, fuel efficiency, value, and OEM approvals. Perfect for informed decisions.
Have you ever felt the difference of high-quality engine oil in your car? A high-grade fully synthetic engine oil for your car will give you better fuel economy, less engine wear, better performance at high and low temperatures and can even help with oil leaks.
MyCar.Repair is an online store where you will only find the very best fully synthetic oils for petrol and diesel engines. At MyCar.Repair you don't need to be an expert mechanic that knows everything about base oils, the engine oil viscosity index and low-speed pre-ignition. Our experts have carefully curated a range of sets that include the perfect engine oil and oil filter for your car. There is no need for you to study your owner's manual in order to find the products for your oil change. Just use our simple search, live chat or contact forms to find the perfect products for your oil change.
There are many types of base oils that can be used to create a motor oil. Not all motor oil brands use the highest quality base oils for motor oil. The lowest quality base oil you can find is crude oil. Conventional motor oil brands will often use traditional mineral oils as their base oils. These low-quality engine oils can results in lower fuel economy, higher engine wear and shorter oil change intervals.
Semi-synthetic oil is a car oil where traditional mineral oils have been mixed with fully synthetic oil. Although these semi-synthetic oils are better than conventional motor oils their performance is well below a synthetic blend oil and do not meet the demands of modern cars like hybrid vehicles.
MyCar.Repair only stocks full synthetic oil that has been through rigorous laboratory and engine tests. Many of our oils contain anti-wear additives and other additives that prevent oil leaks and sludge buildup. Fully synthetic oil will last longer so you have to do fewer oil changes and save money.
Synthetic oils are specially formulated to reduce oil consumption, improve fuel efficiency and increase engine performance. The synthetic formula provides high lubrication reliability and works better in extreme temperatures. Conventional motor oil can often be unsuitable at very low temperatures or at high temperatures caused by turbocharged engines and hybrid vehicles.
A good synthetic oil is designed for excellent fuel economy, rapid oil delivery at low temperatures, high protection against engine wear and keeps your engine clean.
High mileage engines have ageing engine seals that create oil loss. These rubber seals in older engines dry out and no longer act as engine seals. For older engines, we recommend specially formulated full synthetic oil that has seal conditioners inside to restore the engine seals.