Mercedes Benz is a Germany-based auto manufacturing company. It has achieved a mark in the segment of luxury sedans and vans, over the entire world. For the maintenance of these vehicles, Mercedes created its own maintenance program with the Mercedes A Services and Mercedes B Services.
This blog is a maintenance guide for your Mercedes up to 250,000 miles. It aims at providing information on the tasks and operations that must be performed after a certain mileage.
We will also discuss the major differences between Mercedes service A and Mercedes service B. Plus we'll tell what is covered in each service type.
You'll also find links and references to useful products available on our website. Finding the most suitable engine oil and automatic transmission oil that also meets the MB Approval as well as the OEM quality filters can be a big hassle. We have solved this problem for you and created curated maintenance kits specific for your Mercedes Benz considering not only the necessary MB Approvals but also the vehicle age, climate and other factors. For many models we prepared DIY Oil Change Tutorials for you so you can save on the service fees and learn more about your cars engine. Find the right oil change kit for your Mercedes Benz Service here: https://mycar.repair/uk/shop/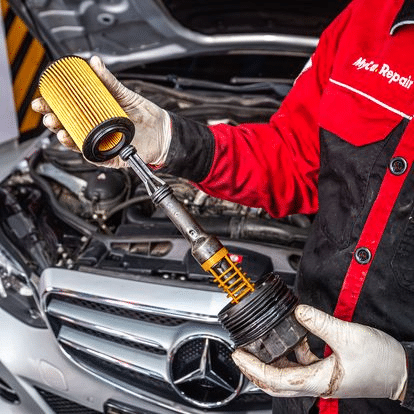 So, if you're a Mercedes owner, read this blog till the very end. You'll find plenty of useful information here.
Let's dive in!
Long Lasting Mercedes Benz
As the company started its manufacturing in 1926, it has been almost a century since Mercedes vehicles have been around.
The company itself has matured to iterate over little points, such that its models are now perfect in all aspects.
It is not unusual that you'll find the 1980s or 1990s model Mercedes cruising on the road, in a condition as pristine as a car straight out of the showroom.
This is due to the fact that Mercedes has never compromised on the quality of products it uses in its vehicles, as their slogan suggests, 'Best or Nothing.
Mercedes Benz manufactures its vehicles with the perspective that they'll go from generation to generation and last an eternity.
Maintenance of Mercedes Benz
Most people find it a dilemma to maintain their vehicle, especially when it's a luxury car that they have bought at a high upfront cost. However, to deal with this problem for its car owners, Mercedes Benz introduced the Flexible Service Plan. It divides its Mercedes service into two types, Mercedes service A and Mercedes service B. This is to make sure that the inspection and maintenance of the car are carried out according to schedule, which depends upon the time lapsed or the mileage done by the car.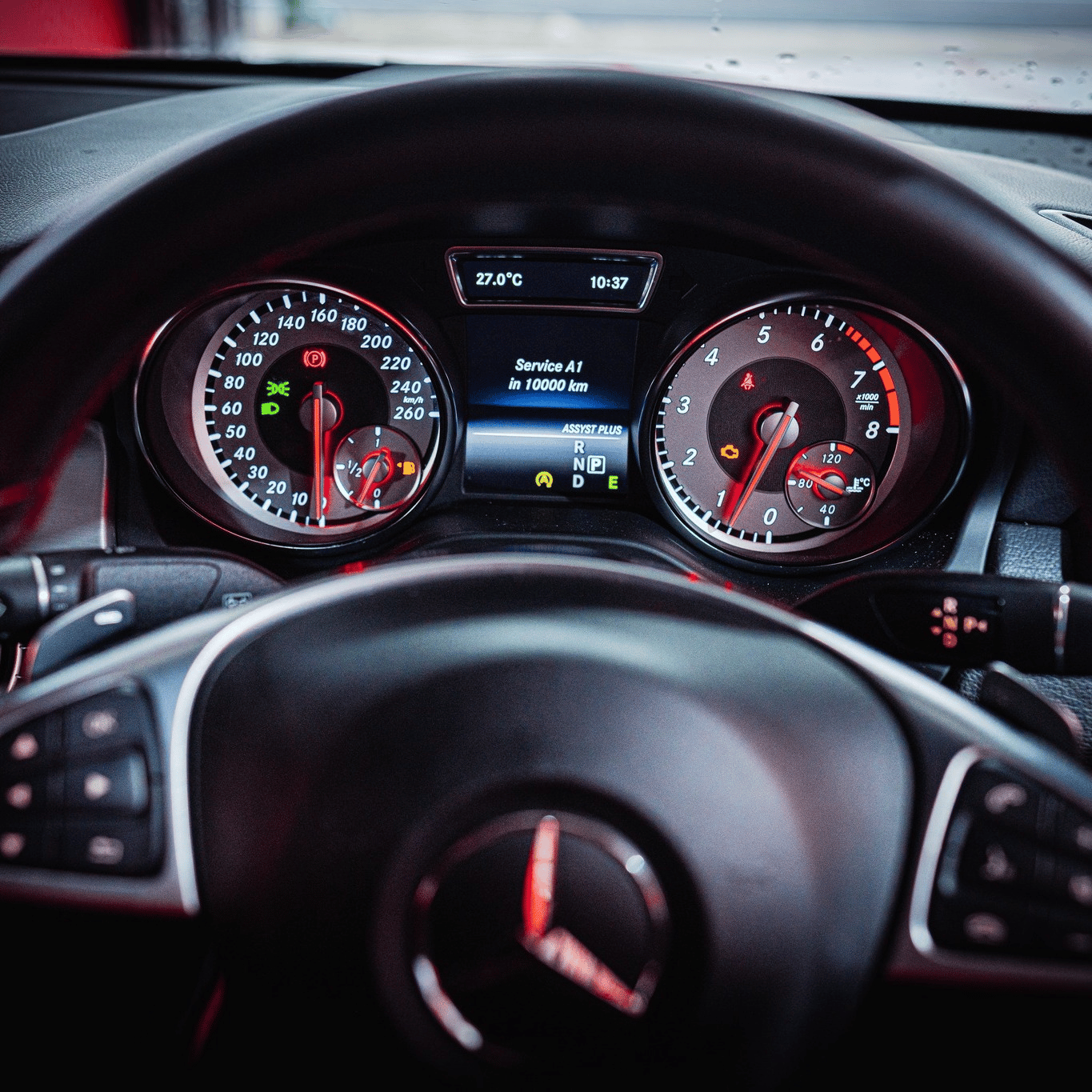 This blog is a guide to maintaining your Mercedes to a mileage of 250,000 miles and provides information on the tasks and operations that must be performed at their specific mileage. We will also discuss the major differences between Mercedes service A and service B and what is included in them. You'll also find links and references to useful products available on our website, which will help you in servicing your Mercedes from various aspects.
Mercedes Service A vs Service B
Before we dig into the maintenance schedule of a Mercedes up to 250,000 miles, it is important to know standard Mercedes servicing.
For ease of its users, Mercedes has devised two service care plans. One of them is service A and the other one is B.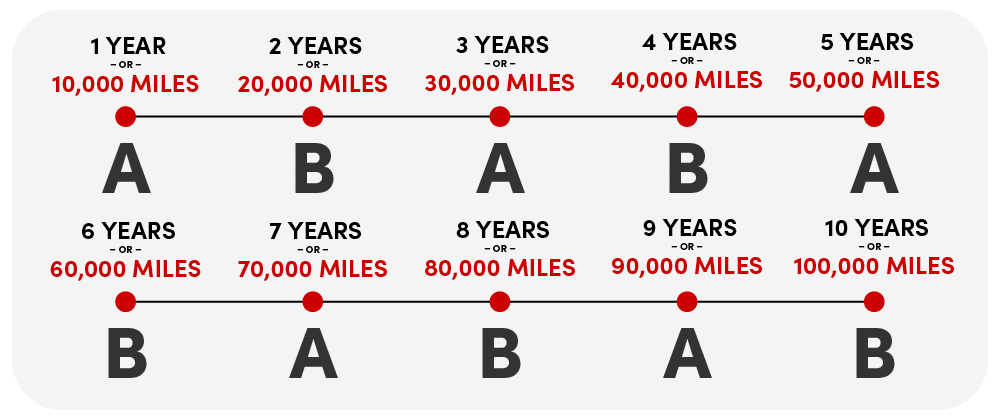 Mercedes Service A is to be done after the first 10,000 miles are covered by the car or after the first 1 year of use. It includes services and checks such as. It includes the following services and checks:
Replacement of synthetic engine oil.

Replacement of oil filter.

Checking the condition and level of fluids such as brake fluid, transmission oil, and radiator coolant.

Inspection and correction of tire inflation.

Inspecting all the brake components.

Resetting the maintenance counter.
After the first service A at 10,000 miles, you must bring your car in for A-type service every 20,000 miles. On average an A-type service costs you around £150 to £300. If the car is of an older model and more components or spares are replaced, the cost may increase further. You can save a lot by doing the relatively easy service on your own by following our DIY oil change tutorials for Mercedes Benz models and ordering the right curated oil change maintenance kit from MyCarRepair here: https://mycar.repair/uk/shop/
In comparison to that, the first service B is due at 20,000 miles or 2 years of driving your Mercedes Benz. It is more extensive and detailed than service A and includes the following services:
Replacement of synthetic engine oil.

Oil filter replacement.

Screen wash.

Replacement of cabin and air filters.

Exchanging brake fluid.

Checking fluids such as transmission oil and coolant and replacing them if need be.

Checking the inflation and condition of tires.

Inspection of brake components and replacement of worn-out ones.

Resetting the service B maintenance counter.
An average service B will cost you anywhere around £400 to £700 or even more than that considering the rising costs of fluids and spares.
You can check out the comprehensive details of service A and service B on dedicated blogs available on our website MyCar.Repair. Contact our experts for advice on which products to use or to oder the right maintenance kit for your Mercedes Benz A or B Service by sending us your mileage and license plate here: https://mycar.repair/uk/contact/
Maintaining a Brand New Mercedes to 250,000 Miles
The flexible service care plan based upon A and B-type services is very important for the longevity of your Mercedes Benz.
We will hereby be discussing the maintenance plan for your Mercedes Benz in terms of the milestones completed after every 10,000 miles. We will especially emphasize the jobs that are not included in the regular 10,000 miles service.
5,000 Miles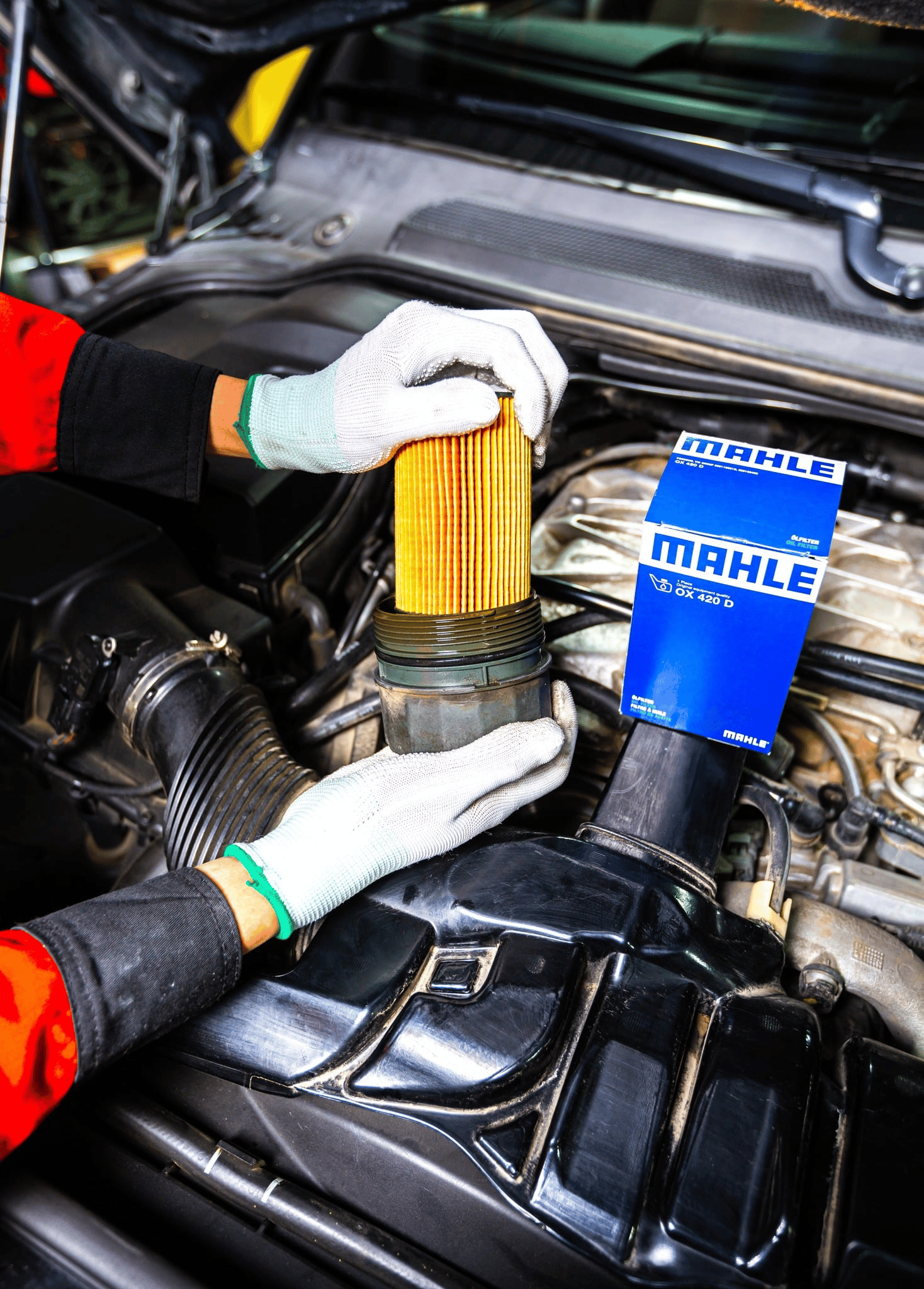 Replacement of the oil filter is done in both services A and B. At MyCar.Repair you can buy the best quality oil filters manufactured by Mahle for your Mercedes Benz.
10,000 Miles
As discussed earlier in the comparison of Mercedes Benz services A and B, your first service A visit will be due at 10,000 miles after buying a brand new Mercedes Benz.
Service A will include the replacement of engine oil and oil filter, and an inspection of all fluids, tires, and brake components.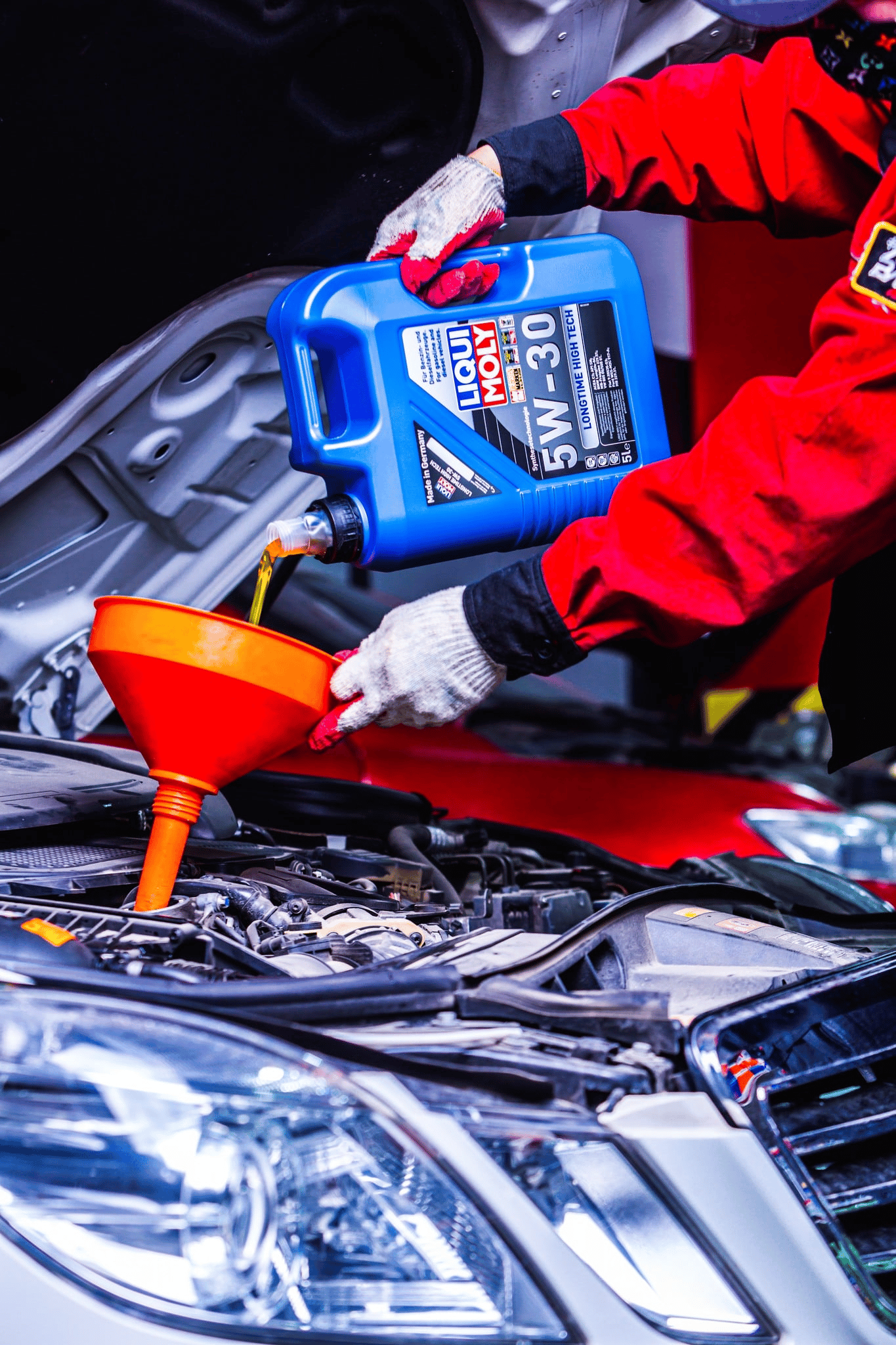 Service A will be repeated every 20,000 miles afterward. According to this, the service will be repeated at 30,000 miles, 50,000 miles, 70,000 miles, and so on.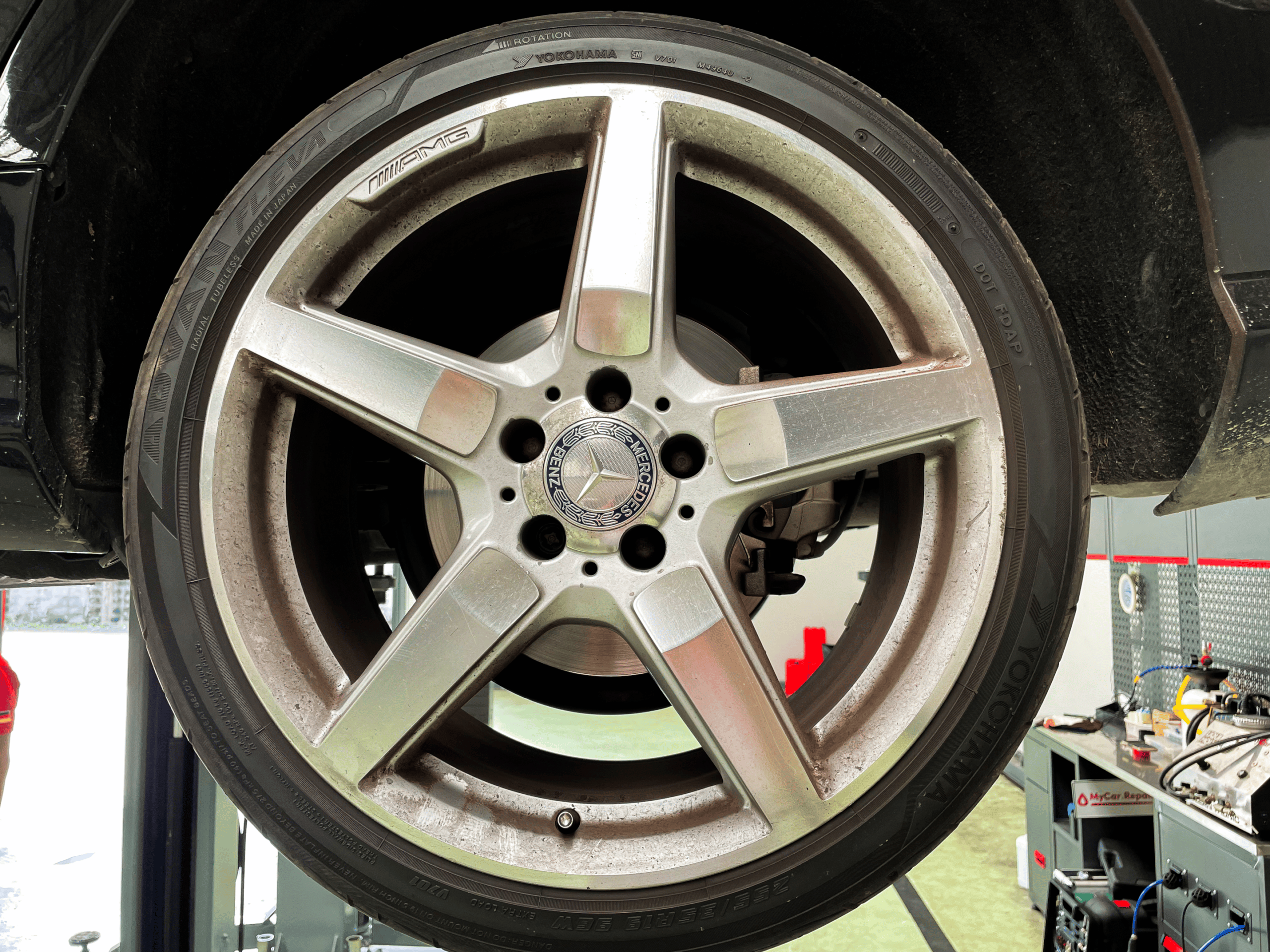 Wheel balancing is recommended after every 10,000 miles. Therefore after completion of the first 10,000 miles, you should get the alloy wheels of your Mercedes Benz inspected for any disbalances and get them fixed.
To get the maximum life out of your Mercedes' tires, tire rotation should be carried out at intervals of 10,000 miles. During tire rotation, the tires in the best condition are mounted on the front axle for better road grip, handling, and braking.
20,000 Miles
Service B will involve similar operations as done during service A with some additional jobs. Such as the replacement of cabin and air filters and topping off the brake fluid.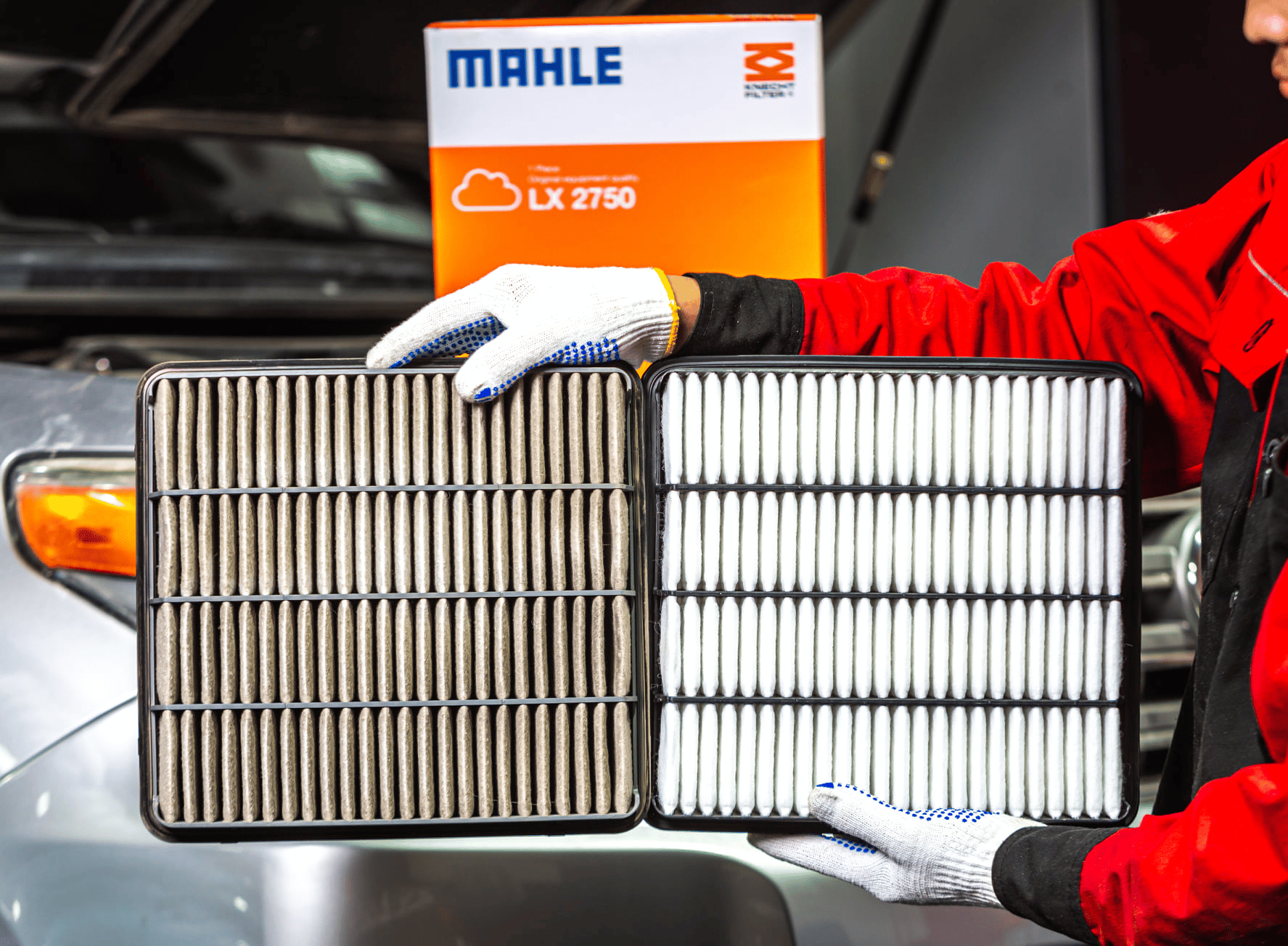 Apart from that, the passenger and engine compartments are also checked thoroughly for malfunction, damage, and leakages.
You'll go for the first service B visit at 20k miles on the odometer. After that, it will be due every 20k miles, i.e 40k, 60k, 80k, 100k miles, and so on.
Further details of service B have been discussed earlier. It can also be found in a dedicated blog on our website for Mercedes Service B.
A coolant flush is recommended for Mercedes models once in every two years, or after 20,000 miles ideally. This ensures that the heat radiator system of the car keeps working fine.
It also prevents the internal piping and water channels from rusting. Coolant flush keeps engine temperature under check which will enhance engine life.
30,000 Miles
Service A

Replacement of Brake Shoes and Pads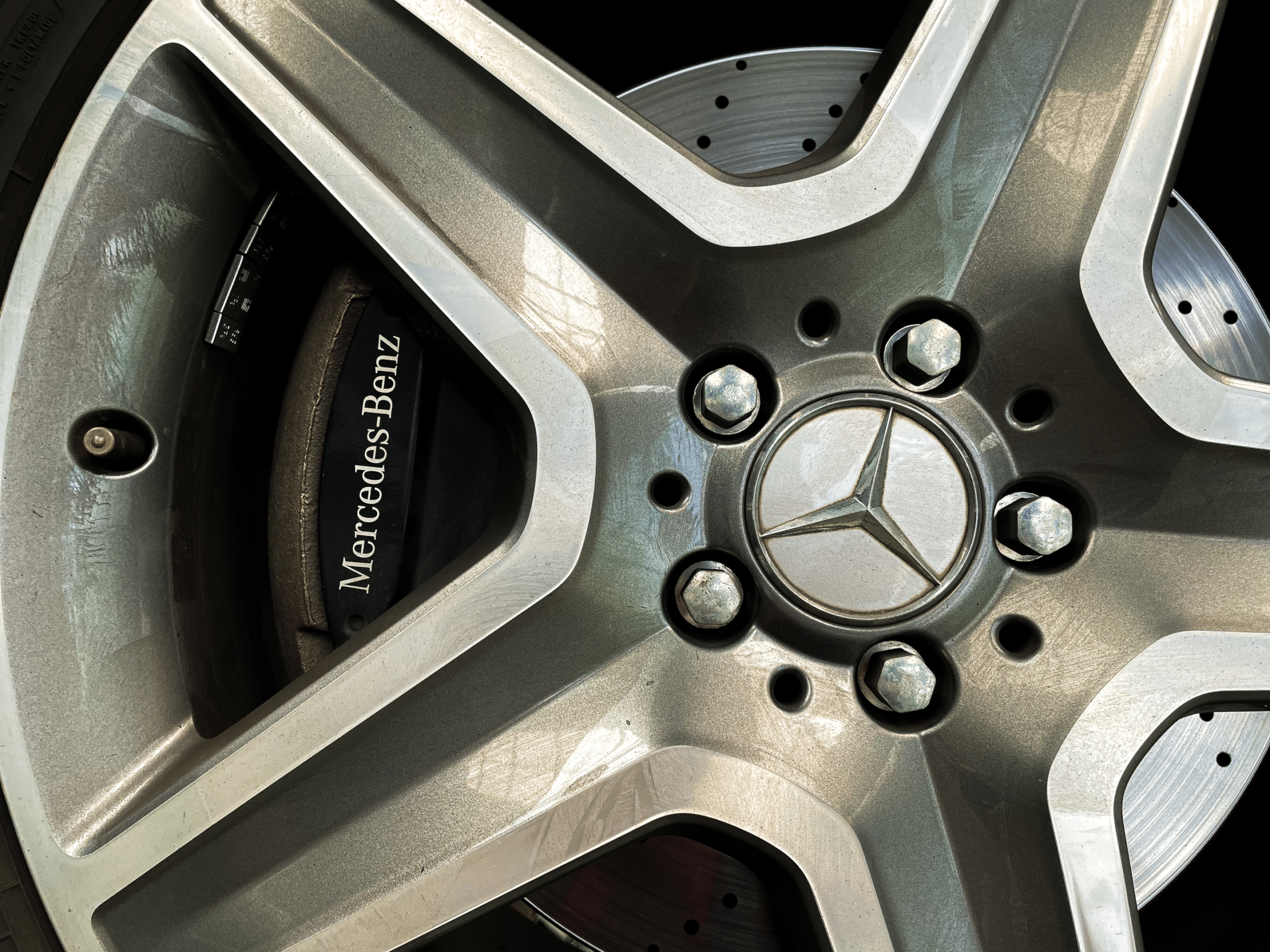 Brake components including the brake shoes and brake pads are thoroughly inspected in regular service A and service B. But their replacement entirely depends upon your driving style and driving conditions.
Mercedes genuine brake pads and shoes can last anywhere between 25,000 to 40,000 miles. To be on the safer end, you should get them replaced every 30,000 miles.
40,000 Miles
Service B

Replacement of Spark Plugs
Mercedes recommends changing the spark plugs once every two or three years. Therefore, you should ideally get them replaced after every 35,000 to 45,000 miles.
Using old spark plugs for extended periods can adversely affect engine performance. It can cause other issues such as engine knocking and pre-ignition. Things like these would kill your engine way before it is supposed to.
Hence, we recommend changing spark plugs on average at 40,000 miles.
Replacement of Manual Transmission Fluid
If you own a manual transmission Mercedes, you should get its transmission fluid changed every 40,000 Miles. This ensures smooth gear shifting and operation of gears and keeps the gearbox free of contaminants and deposits.
It also prevents issues like the car slipping out of gear and car stuck in a certain gear.
60,000 Miles
Service B

Replacement of Tires
The inspection of tire pressure and general condition of tires is a part of both service A and service B. But tire replacement is not required at the same frequency.
Mercedes recommends tire replacement after 50,000 to 60,000 miles. Thus, you'll have your tires changed about four or five times when your vehicle completes 250,000 miles.
80,000 Miles
Service B

Automatic Transmission Fluid Replacement
If you own an automatic transmission Mercedes Benz, the automatic transmission fluid (ATF lubricant) should be replaced after 80,000 miles.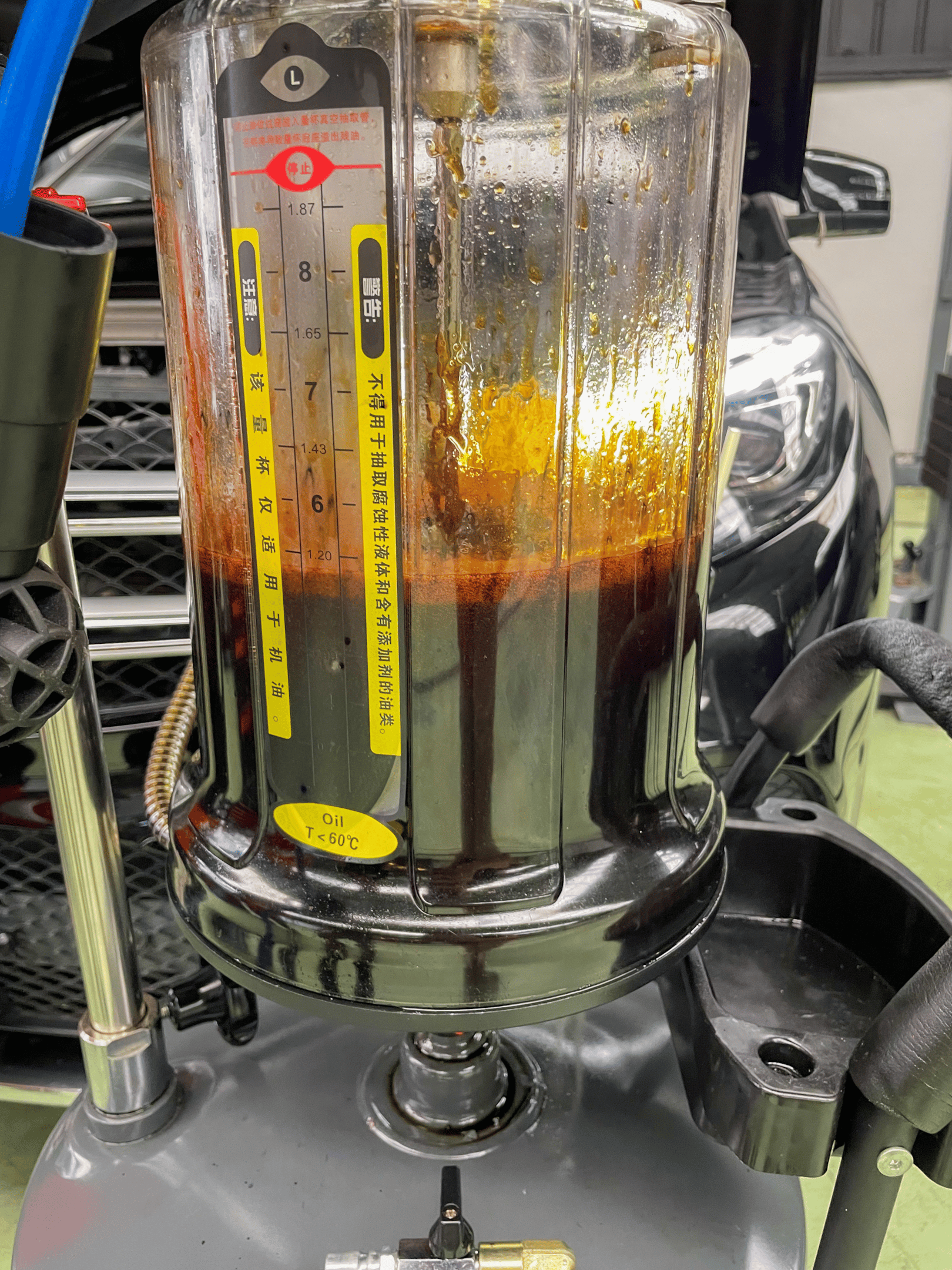 To prolong the transmission fluid life, you can order the LIQUI MOLY ATF Additive from our online store MyCar.Repair
From 100,000 to 250,000 Miles
Services A and B will keep recurring after every interval of 10,000 and 20,000 miles up to 250,000 miles.
For instance, the service at 160,000 Miles will be a combination of the services at 40,000 and 80,000 miles respectively.
It will involve all the jobs done in those services such as service B, spark plugs replacement, and ATF oil change.
Therefore, with increasing mileage, your service visit also becomes more intensive and detailed. You'll have to spare more time and cost for the parts and labour.
More and more parts start failing once the car passed 100,000 miles. 100,000 miles in general means that the car is 10 or more years old.
And a car that has been around for so long is bound to have problems. Though you can avoid any of those problems by ensuring regular maintenance.
If you get your car serviced on time it would last generations.
Mercedes Benz ServiceCare Plan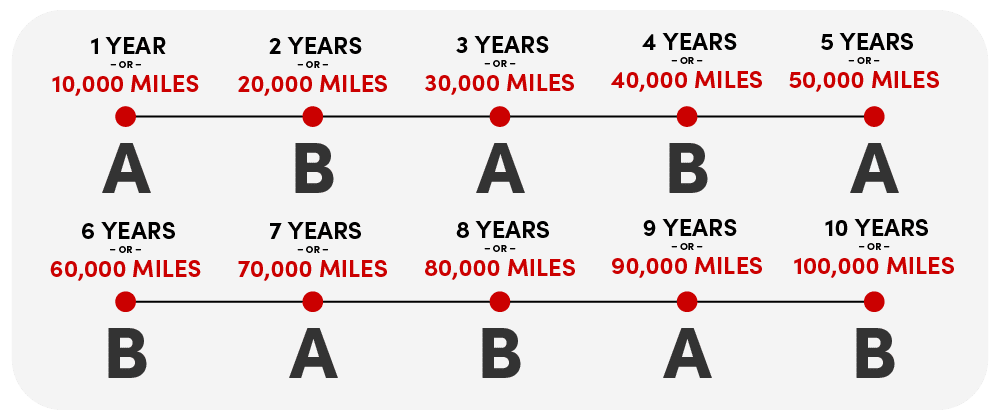 Availing of Mercedes Benz service care plans will keep your car in mint condition. It's better if your car is maintained only with MB approved products to protect the engine warranty. You can conduct the maintenance following the instructions or bring your Mercedes to a close by Mercedes service center.
Starting from a brand new car, Mercedes Benz provides you with a plan upfront. The parts and labour costs are mentioned by the company and services are offered at a guaranteed price.
Estimated scheduled servicing costs are also provided by authorized service centers. Hence you will have clarity in terms of maintenance costs.
Mercedes Benz ServiceCare offers service plans based on manageable monthly payments with monthly cost starting from as low as £31.
This is so that you don't have to bear the maintenance cost all at once. It is a great option for salaried persons who have to stay within their monthly budget plan.
The fixed monthly price is an affordable servicing solution considering the high one-time servicing costs. You can also opt for a one-off payment according to your convenience.
You also have the luxury of transferring unused services to the new owner, in case you are selling your Mercedes. Ask about transferable plans at your Mercedes dealership.
FAQs
Q: What happens if you don't service your Mercedes?
Ans: Forgetting your scheduled service or delaying it for a long time puts your engine at risk. The wear and tear of moving parts happen at a faster rate. The engine becomes prone to heating up more frequently. It will lead to increased costs of parts and labour in the future.
Q: Can independent garages update Mercedes service history?
Ans: Independent garages can update your Mercedes' service history provided that they are associated with the Independent Garage Association (IGA). They are then able to update the information about your vehicle on the secure centralized database of the manufacturer.
Q: How do I check my Mercedes service history?
Ans: Mercedes-Benz provides a Digital Service Booklet which keeps an online record of your vehicle's service history. Mercedes owners can access the records securely, and with permission, the mechanics can also have access to the records.
Q: How many months can my Mercedes go without an oil change?
Ans: Although synthetic oil holds up better and serves for more miles compared to semi-synthetic oil it should be changed within the recommended time interval or mileage i.e. 10,000 miles. You can prolong it by another couple of thousand miles but if you go more than that, your car's engine will be at risk.
Q: Is it worth keeping full dealer service history?
Ans: Having a complete record of your Mercedes maintained by an official dealership gives you peace of mind as a driver. It also maintains the worth of your car so you can get good resale value while selling it.