Like every appliance and gadget you own, your car also needs timely maintenance to keep working. Not all vehicles require the same services, and things change when you own an Audi. Like all high-end vehicles, Audi also needs a high-end service to stay in the best possible condition.
It is essential to take inspection service seriously. If you do so, it saves a lot of bucks from going down the drain. It is also an excellent way to know about all the underlying faults that would otherwise stay hidden and damage your car in the worst way possible.
This guide covers the service checklist for Audi that is essential to keep your favourite Audi car on the road longer. By the end, you will understand how important it is to have a proper maintenance schedule for your vehicle.
Taking good care of your Audi also improves its resale value. If you take care of the engine, your car will be in top condition as the engine is the key. For more detailed information check out our Audi A3 service guide.
Engine oil
Everyone knows how crucial an engine to a car is and how important is it to use good quality engine oil. It is hard to choose a perfect oil for your vehicle, and when it's a matter of your Audi, options become even more limited. But you don't have to worry as MyCar.Repair has developed a range of DIY oil change sets from LIQUI MOLY and Mahle. We have a range of sets that are perfect for an Audi A3. Use our vehicle search tool to find the right set for your car.
It is an award-winning product, and that is because of the LIQUI MOLY additive that comes from Germany. Being manufactured since 1847 in Germany, LIQUI MOLY is a car oil additive that is trusted by big names like Audi, Toyota, BMW, Mercedes Benz, etc.
Depending on time and car mileage, you don't need to wait for Audi servicing to change the car oil and the oil filter. To make you independent with the oil changing procedure, MyCar.Repair has come up with this fantastic kit to enhance the life of your car engine.
It is important to note that MyCar.Repair is not a lender of car services but a manufacturer of high-quality car service products.
What are the Audi service intervals?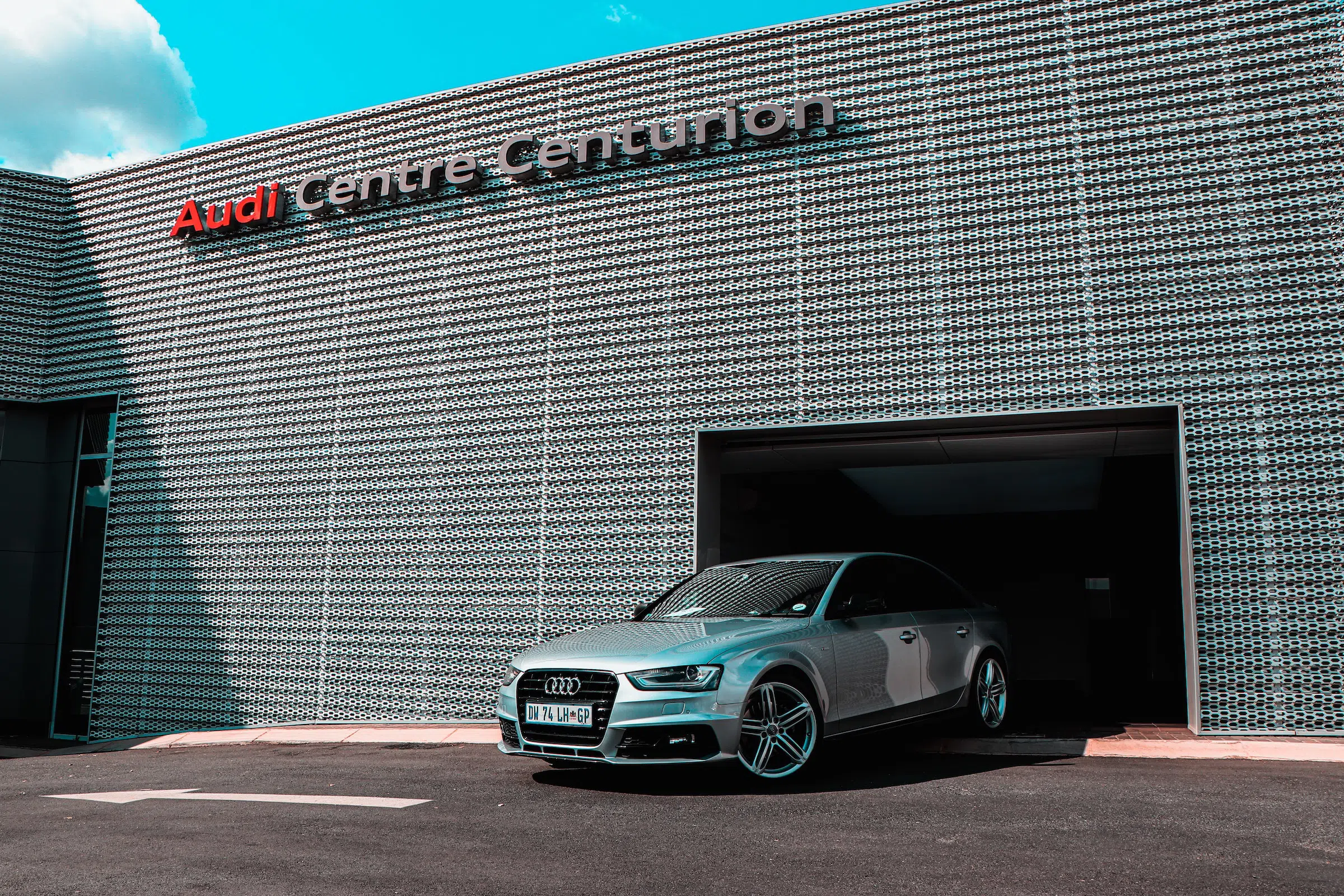 At an Audi centre, the maintenance service usually begins 10,000 miles from delivery. Typically service is provided for maintenance in the next ten years after the first 10,000 miles. All the services are provided under the supervision of Audi-trained technicians.
For a smooth Audi running and complete peace of mind while driving, pay close attention to your service intervals, tire condition, and engine oil. Also, don't worry about the servicing price because when you have paid a massive price for the vehicle, spending a nominal cost for the servicing shouldn't be a big deal, especially when this nominal price is paid to prevent the hefty sum from going down the drain.
Inspection Service
For Audi and other high-end car brands, generally, there are three types of the service schedule. These include minor, standard, and significant maintenances. Depending on your budget and need, you can select one but do not miss the service ever as it is essential for the well-being of your vehicle.
Audi Minor Maintenance Service
A minor maintenance schedule for Audi A3 has two phases. First minor maintenance is scheduled at 10,000 miles or a year after delivery, whichever occurs first. The second minor maintenance is due at 10,000 miles or one year after the first maintenance, whichever occurs first.
Why is annual service important?
Instead of looking for miles on the service reminder indicator display, it is better to go for annual servicing with your Audi A3. Maintenance ensures the safety of your vehicle, and a safe car means you are safe while driving it on the road.
An experienced and appointed representative can help you way more professionally and point out many areas that need repair. All providers offer convenient service plans, but it is vital to go for them at least once a year.
Brake system and oil change service
The minor maintenance service covers areas such as the brake system in which the thickness of disc brake pads. The engine oil is changed, and the oil filter is replaced. AdBlue fluid is entirely exchanged with the fresh fluid for all TDI models.
Tire pressure monitoring system
The tire condition is examined by the tire repair kit, which is also checked for its expiry date. All the tires and spare wheel are checked for any wear and tear. The tire pressure monitoring system rests after checking the tire pressure.
Headlight and windshield washing system
The windshield washer and the headlight washing system are checked for any required adjustment and fluid change. Wiper blades are also looked for for any required replacement. A complete multi-point inspection service is offered at every minor maintenance service. Most importantly, the service reminder indicator display is reset for an accurate maintenance service next time.
Why choose minor maintenance?
The minor maintenance is a cost-effective service that falls within budget and meets the customer's specific requirements. This service should be on every Audi user's routine maintenance list.
Brake system
Engine Oil and Oil filter
Multi-Point Inspection
Tire Repair Kit
AdBlue fluid
Windshield washer and headlight washing system
Wiper blades –
Tires and spare wheel
Tire Pressure Monitoring System (TPMS)

Audi Standard Maintenance Service
Like a minor maintenance schedule, there are two phases for standard maintenance. The plan depends on time and mileage, whichever occurs first. However, the degree of inspection varies.
What is different in a standard service?
A standard service inspects more than a minor one and covers more aspects. It is a detailed maintenance service. Standard maintenance aims to provide services at an in-depth level and looks for even the tiniest of the details.
Battery checkup
In this standard maintenance, automatic transmission oil is checked for leaks. The battery terminals are inspected for cleanliness, mounting, damage, and proper housing. Acid levels of battery are also analyzed and filled if necessary.
Cooling system checkup
Charging sockets are also checked for any damage and ensured of dryness. The cooling system is checked for coolant level, and maintenance of -25C level is guaranteed in the system.
Exhaust system checkup
Driveshafts are checked for boots. Also, the dust and pollen filters are replaced. The exhaust is checked for any damage and leaks. The hood safety catch is lubricated, and the horn is also examined for any damage.
Sunroof system checkup
The on-board toolkit is also examined for all elements, and if missing, they are completed. Panorama sunroof systems are analyzed for functionality. Its guide rails are cleaned and lubricated with grease. The cover of the Plenum panel is removed to check the water drain, and any required cleaning is also provided.
Tire and seatbelt checkup
The safety belts are checked at the tongue point and function-wise to ensure the Audi user's safety. The snow screen is cleaned, and the function of the sunroof system is also examined. The tire repair set is checked for any missing component and whether it needs a renewal or not.
Headlight washing system
The entire front lighting system is analyzed in depth. The function of parking lights, low beams, high beams, fog lights, blinkers, and hazard lights are examined for any damage. All the interior lights are also examined, and the glove compartment is looked for illumination issues.
The front headlights are given the required adjustments. The instrument cluster is checked for warnings and indicator lights. The front and rear axles are checked for excessive play and examined for dust seals at ball joints and tie rod ends.
Like the front lighting, rear lighting is also examined in depth. The function of brake lights, taillights, backup lights, rear fog lights, license plate lights, blinker lights, hazard lights, and trunk lights. The rear spoiler hinges are also lubricated.
Visual Checkup
The entire underbody of the vehicle is examined from front and rear for any fluid leaks or damage. An in-depth physical check examines the whole structure of the Audi vehicle and looks for any external distortion such as paint damage or corrosion from all possible angles. The physical examination also looks for wheelhouse panels, underbody lining of the Audi vehicle, and correct mounting of all the lines.
Final drive
A final road test tick marks all the vehicle checks such as engine performance, clutch, steering, brake fluid, wheels, wheel bearings, horn, driver shafts, etc. The final drive ensures optimum fluid levels, a perfectly working air filter, and a fuel filter.
Standard Maintenance Service at Audi comes with an extra cost, but it is worth the price. If you want your Audi to stay for long, you must pay for these services. The good thing about them is that these services are not required frequently but at intervals.
Automatic transmission
Final drive
Battery
Cooling system
Doors
Driveshafts
Pollen filter
Exhaust system
Front headlights
Front and rear axle
Instrument cluster
Interior lights
Manual transmission and final drive
On-board tool kit
Panorama sunroof systems
Rear lighting
Road test
Rollover protection
Tire repair set
Underbody
Visual check
Audi Major Maintenance Service
The major maintenance service for Audi occurs when a 20,000 mileage is crossed, or it's been two years since the last major maintenance. This service includes all the facilities provided in the interim service and a few additional services.
Additional services
Changings of spark plugs, fuel filters, and air filters are ensured. Power steering fluid levels are checked and is maintained. Brake fluid and oil filters are also checked for replacement.
There is a detailed examination of the braking system along with the shock absorbers. The steering also undergoes an inspection along with an anti-freeze coolant being refilled. Other top-ups include windscreen wash and oil.
The windscreen wiper blades are also checked for any replacement. The light system of the entire Audi vehicle is deeply examined from all the possible angles. The charging system, exhaust system, and battery system are also checked.
Automatic transmission
Final drive
Battery
Cooling system
Doors
Driveshafts
Pollen and oil filter
Exhaust system
Front headlights
Front and rear axle
Instrument cluster
Interior lights
Manual transmission and final drive
On-board tool kit
Panorama sunroof systems
Rear lighting
Road test
Rollover protection
Tire repair set
Underbody
Visual check
Spark plugs
Shock absorbers
Steering and brake fluid level
Windscreen wiper blades
Exhaust system
Bottom line
The major service package is the most expensive of all at the Audi center, and the majority of the customers avoid buying it. But let me break it to you that your Audi is subject to wear and tear no matter your driving style. It requires servicing at regular intervals. If you want it to last longer in perfect condition, you must keep servicing your Audi at regular intervals.