Are you looking for the best 10W40 engine oil from the best oil brands? Are you looking for a guide having all the necessary information about the 10W40 oil? If yes, then this article is for you because we have got you covered! For any questions or oil recommendations specific for your car please send us a message with your license plate here and our experts will get back to you with their free advice.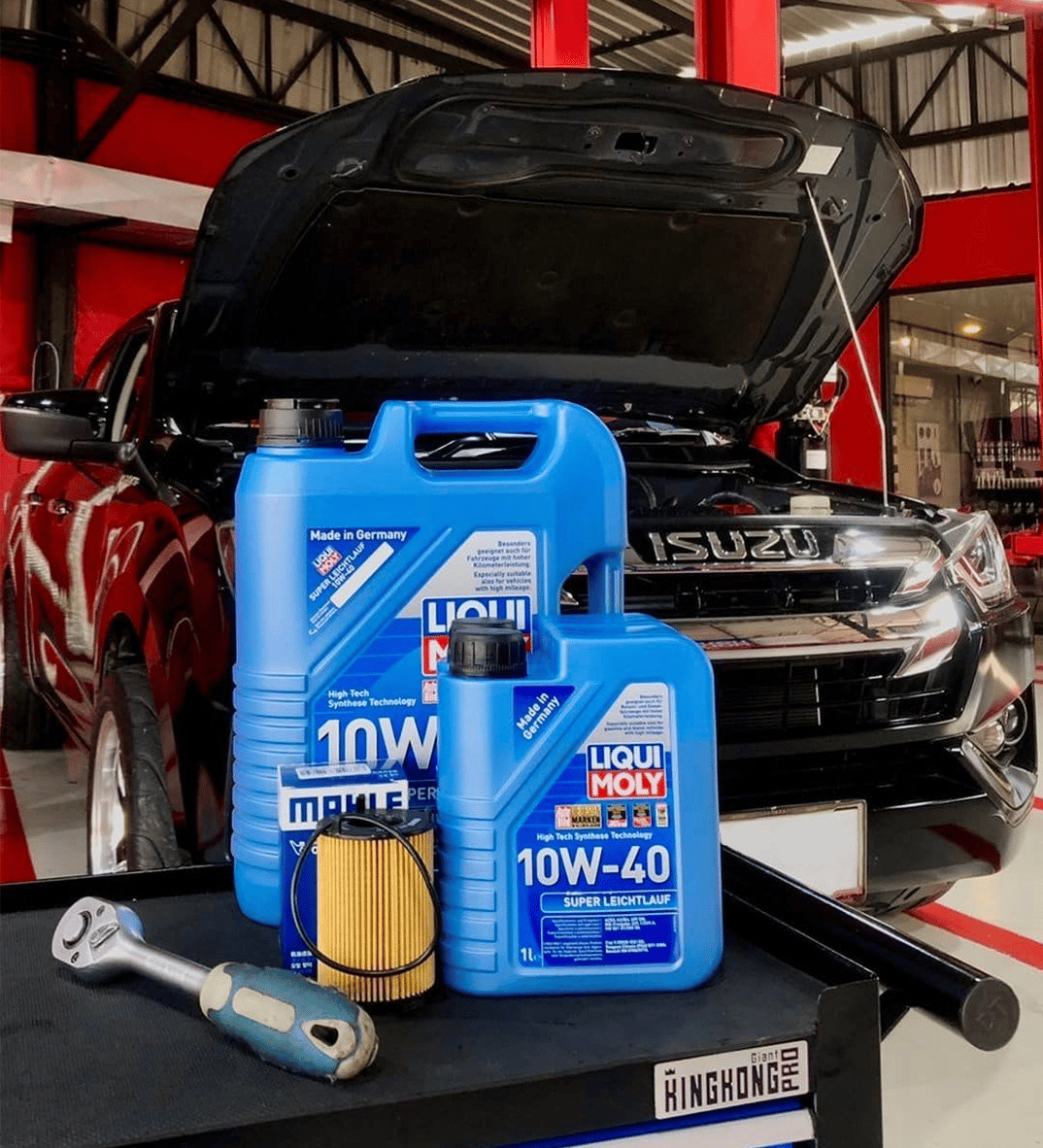 What are multigrade oils?
Multigrade oils have the properties of more than one engine oil. These properties are majorly based on the viscosity, flow resistance and the performance at a specific temperature. Due to the viscosity property of two oils in single engine oil at different temperatures, these oils are sometimes referred to as "multi-weight oils".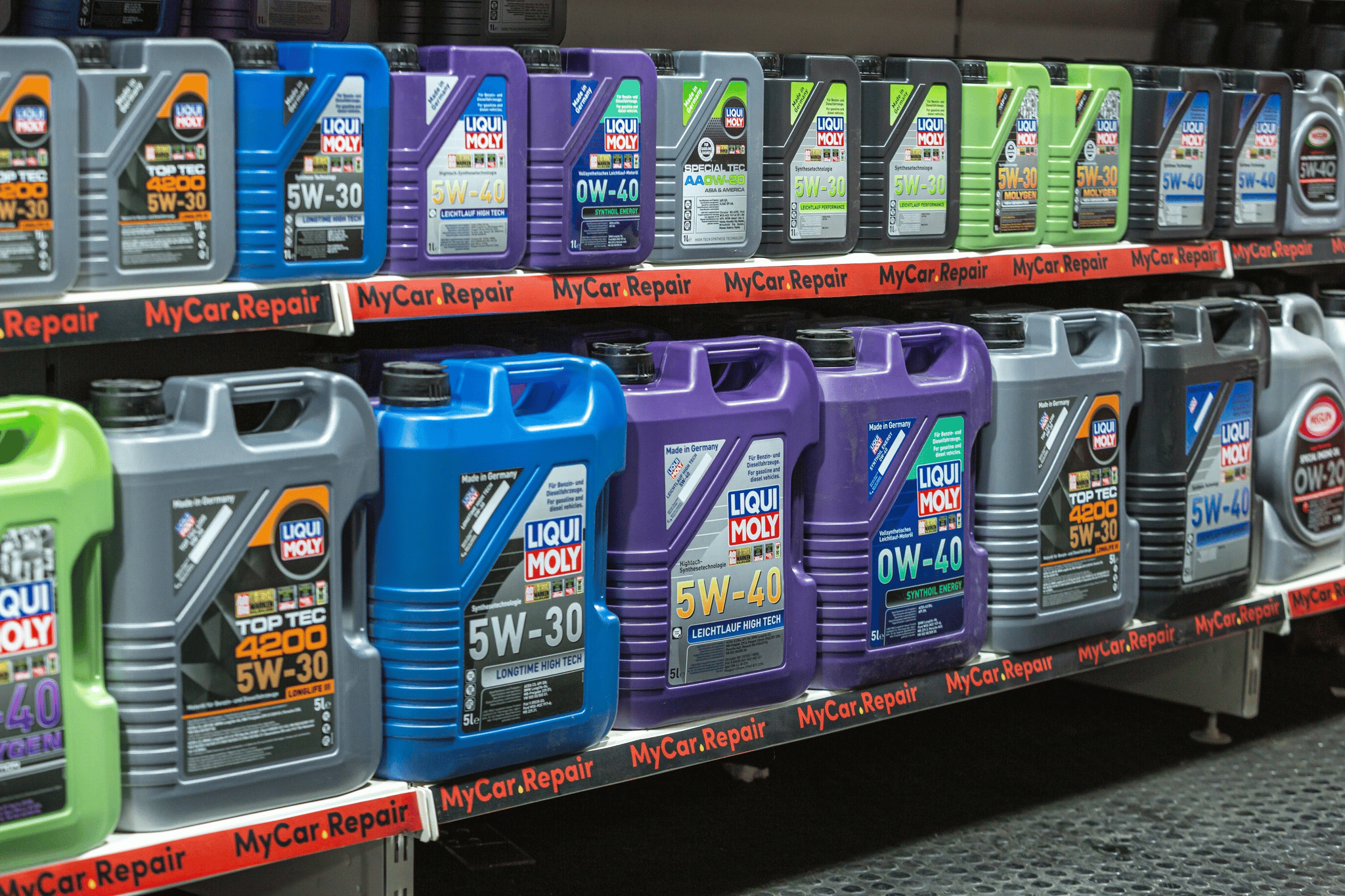 There are different multigrade oils commonly used in cars, SUVs, and trucks. Some of these include 5W30 engine oil, 5W40 engine oil, 10W30 engine oil, 10W40 engine oil, 0W20 engine oil, etc. This article revolves around the 10W40 engine oil, which was introduced in 1970s. So, without any further ado, let's get into the details!
What does 10W40 engine oil mean?
The SAE has a numerical code system through which it grades the viscosities of the motor oils. This numerical code system helps in distinguishing the engine oils from one another based on their viscosity indexes.
In the case of 10W40 engine oil, the letter 'W' stands for winter. The digits on the left, as well as right sides of this 'W', represent the viscosity index. Therefore, 10W40 engine oil means that at lower temperatures, the viscosity grade of this oil is 10. On the other hand, at higher temperatures, it is 40.
Lower temperatures usually correspond to the areas where the weather and climate are usually cold. It includes the point when the car engine just gets initiated. However, higher temperatures usually include warmer climates and the conditions like when the car engine is running.
Which cars and engines should use 10W40 engine oil?
This engine oil is built specifically for diesel engines. However, if your vehicle usually operates in warmer environments, it might be suitable for your car as well. Smaller motorcycle engines also use this motor oil and exhibit amazing performance.
Moreover, 10W40 engine oil also does the job for older engines that have some oil leaking issues or oil burning issues. Also, the 1995-2005 models of cars, including several Mercedes models, mostly utilize this engine oil.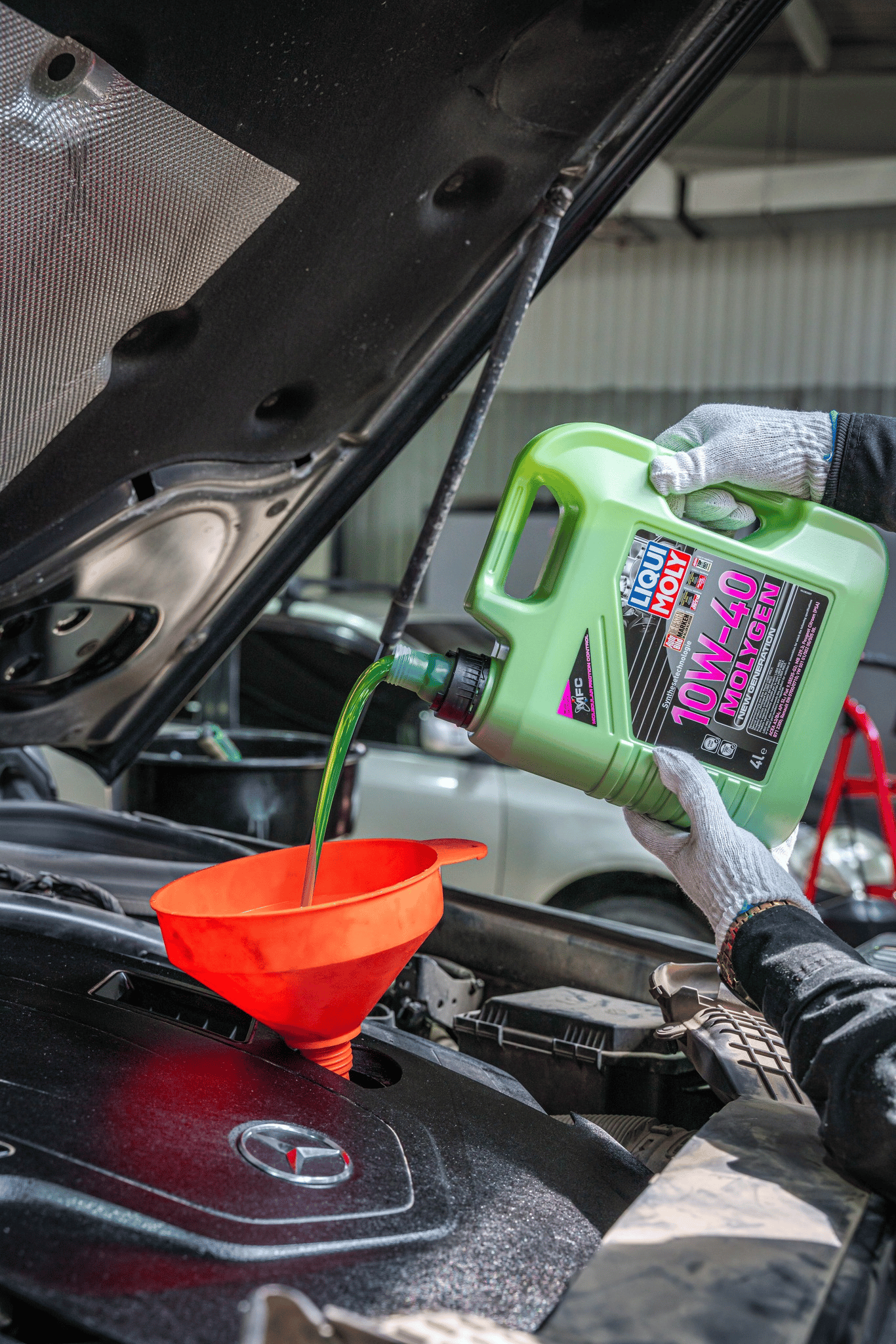 Most usual cars do not use this motor oil unless they have to be driven at higher temperatures. Therefore, we recommend asking our car experts by sending your license plate to confirm if this engine oil is compatible with your vehicle or not!
Benefits of using 10W40 engine oil
Some of the benefits of using 10W40 engine oil are listed below:
The thicker 10W40 oil reduces oil evaporation, especially in high-mileage cars and older engines with worn-out parts.

It results in a longer drain interval. A longer drain interval means that the engine oil does not get wasted much.

10W40 engine oil causes much less fuel consumption and pollution than 15W40 or 20W50 engine oil.

10W40 can cause fewer oil top-ups during an oil change interval on high mileage or older cars.

It has considerable stable viscosity at high engine heat. Moreover, it offers good resistance to hot engines that operate in warmer climates.

The active components of premium grade 10W40 engine oil protect various engine parts as well as car parts. In addition to that, they also ensure superb cleanliness levels by preventing oil sludge formation at high engine temperatures.

This oil protects turbo-charged gasoline engines as well as direct-injection diesel engines.

A fully synthetic 10W40 oil lasts for more than the expected period of a semi-synthetic or mineral 10W40 engine oil, thus saving you money in the longer run.

10W40 is a cheaper oil as compared to the other multigrade engine oils like 5W40 and 5W30.
Best seller brands for 10W40 engine oil
There are several brands of 10W40 engine oil available in stores known for their high performance and amazing quality. In this article, we have listed some of our top picks for such engine oil brands. Let's have a look at their specifications!
LIQUI MOLY Super Leichtlauf 10W40 engine oil
LIQUI MOLY Super Leichtaluf 10W40 engine oil is our top choice for the best seller motor oils. This brand never fails to impress with its quality and high performance.
It is low-friction oil containing essential mineral oil as well as synthetic base oil. This motor oil is compatible with both gas well as diesel engines, no matter if they are turbocharged or not.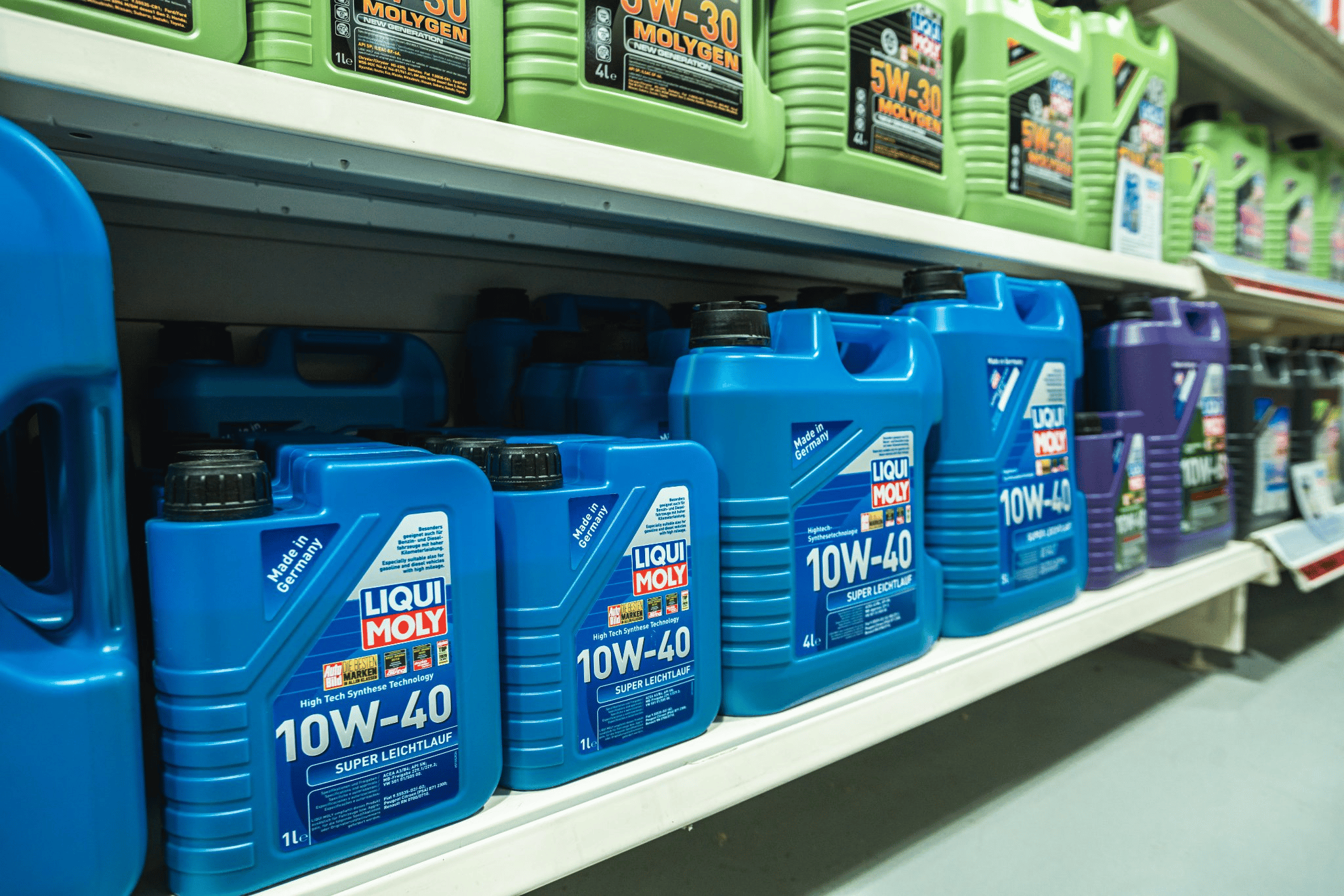 Moreover, LIQUI MOLY Super Leichtlauf 10W40 oil offers a good cold-start behaviour and provides swift oil delivery throughout the major car parts. In addition to that, it offers a good engine cleanliness, viscosity stability, and superb aging.
We highly recommend this amazing product by LIQUI MOLY. You can request it by sending us a short message! https://mycar.repair/uk/contact/
Manufacturer Approvals
APPROVALS
ACEA A3

ACEA B4

API CF

API SL

MB-Approval 229.1

VW 501 01

VW 505 00
RECOMMENDATIONS
Peugeot Citroen (PSA) B71 2294

VW 500 00
Castrol Magnatec 10W40 engine oil
The brand Castrol has a reputable name for automotive accessories, tools, and products. The Castrol Magnatec 10W40 engine oil is also one of their top-class products known for its high quality and longer lifespan.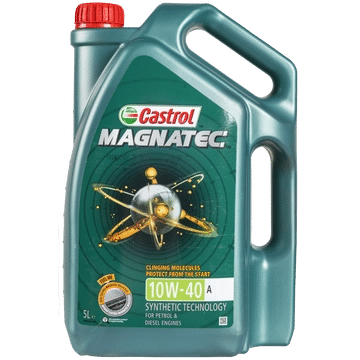 This engine oil promises to protect your vehicle against wear and tears, especially at higher temperatures. Moreover, it offers a great level of cleanliness to the mobile engine parts. Also, it is compatible with many gasoline engines as well as diesel engines.
In addition to that, Castrol Magntec 10w 40 engine oil sticks to the moving parts firmly leading to the superb car performance. Therefore, we highly recommend you purchase this engine oil if you are looking for a stronger oil!
Manufacturer Approvals
Valvoline High Mileage 10W40 engine oil
Valvoline high mileage 10w4o engine oil is another top pick for the best seller engine oil brands. This formula contains enhanced anti-wear additives that promise to protect your car against wear and tears.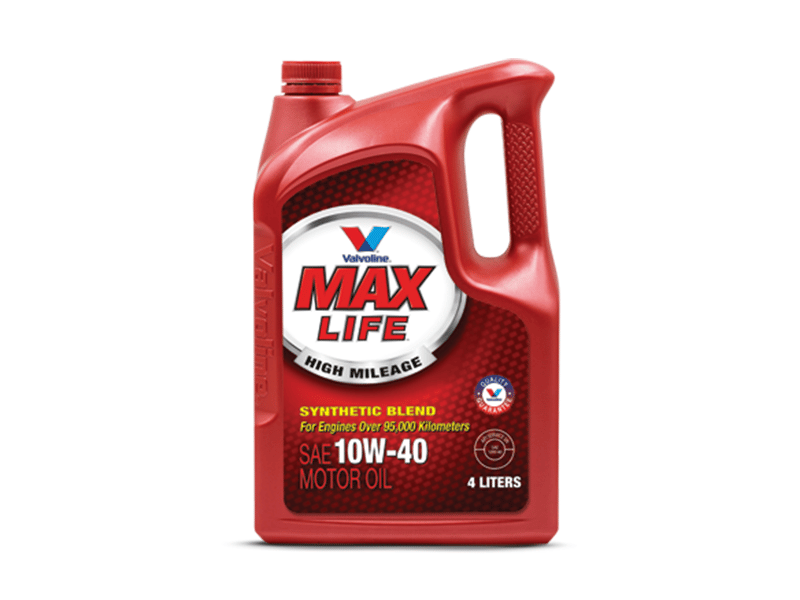 The main feature of Valvoline's high mileage 10W40 engine oil is that it provides safety for critical car parts. In addition to that, it offers high performance even in extreme temperatures and ensures a smooth ride.
Moreover, the enhanced friction-fighting agents of the motor oil improve the engine power along with its performance. This fully synthetic formula is available at a great price in the automotive industry. However, we recommend you read reviews before buying one!
Manufacturer Approvals
ACEA A3/B3, A3/B4

API: SM, SN/CF MB-229.3

PSA B71 2300

Renault RN0700/0710

VW 50200/50500

Recommended for use where Fiat 9.55535.G2 or D2 is specified.
Havoline Synthetic Blend SAE 10W40 engine oil
Havoline motor oils are known for their premium quality and performance. Havoline synthetic blend SAE 10W40 engine oil promises to provide extreme anti-wear protection.
This magic engine oil protects against thermal breakdowns as well. It not only cleans the engine, but also the ventilation systems under heavy load and extreme stop-start conditions. Along with providing a longer lifespan to the engine, it also enhances its power and performance.
Moreover, Havoline synthetic blend SAE 10W40 motor oil provides improved fuel economy by lowering fuel consumption. Therefore, we highly recommend purchasing this product, which is available at a great price, that too in a stock free delivery package!
Manufacturer Approvals
API SN (licensed)

ACEA A3/B3, A3/B4

MB-Approval 229.3

Approved under VW Standard 502 00 and VW Standard 505 00
Mobil 1 High Mileage 10W40 engine oil
Mobil 1 is another top pick for the best seller brands of 10W40 engine oils. This famous brand never fails to impress through its promising features like improved fuel economy, high performance, amazing quality, and outstanding lifespan.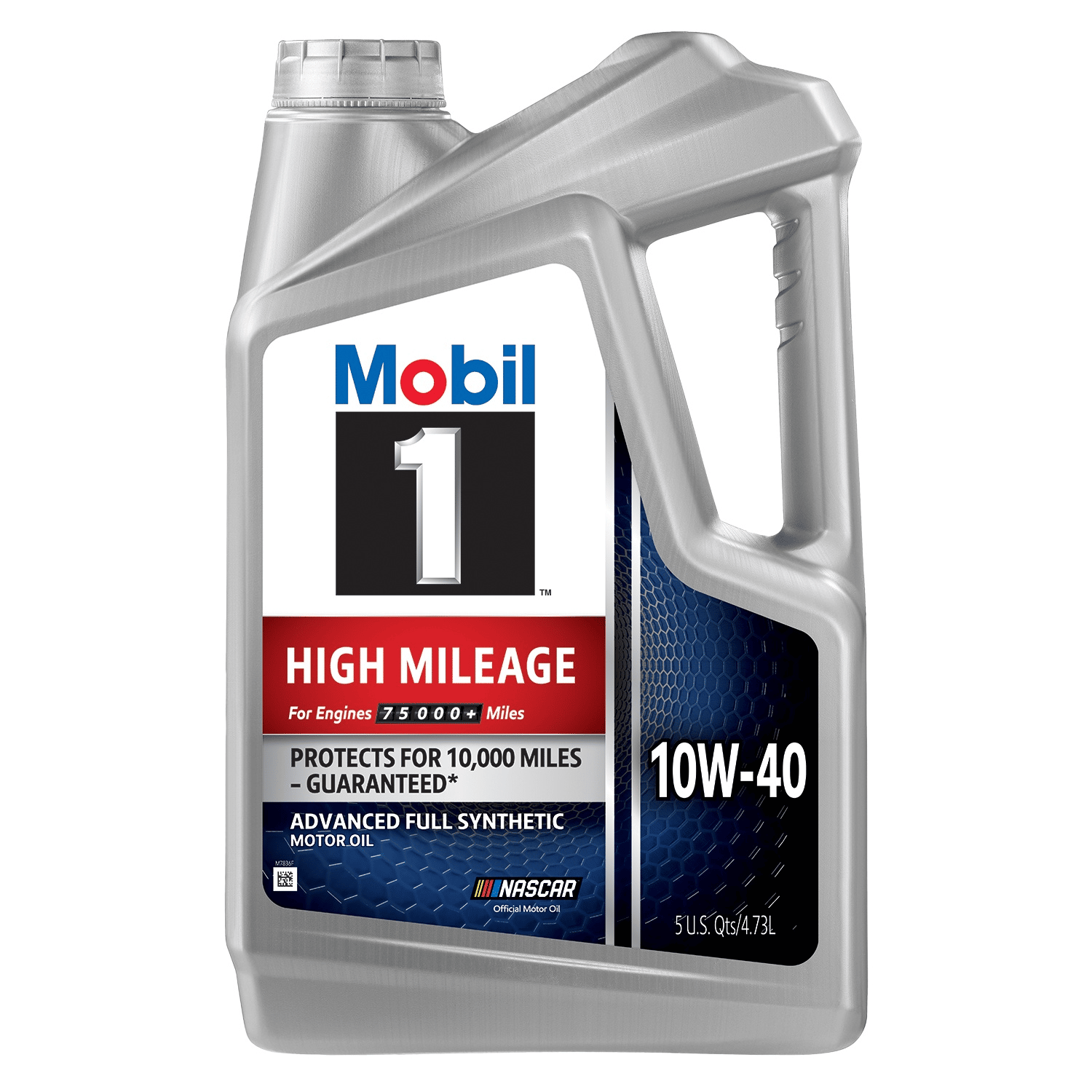 Mobil 1 high mileage 10W40 motor oil helps in preventing the sludge and deposits formation. This amazing engine oil outperforms most multigrade oils in terms of high performance.
Moreover, it provides great engine protection as well as engine cleanliness. Therefore, if you want a cost-effective option that is amazing in terms of its performance, we recommend getting your hands on this product by Mobil 1!
Manufacturer Approvals
Fiat Chrysler Automotive MS-6395

API SJ/ SL/ SM

API SP Resource Conserving

ILSAC GF-6A

FORD WSS-M2C960-A1

FORD WSS-M2C961-A1

FORD WSS-M2C962-A1
Is 10W40 oil fully synthetic?
10W40 can be synthetic oil, semi synthetic oil, or conventional motor oil.
Which engine oil is better 5W30 or 10W40?
5W30 is a versatile oil that can be used in many vehicles. Moreover, it works best in both extremes i.e. high as well as low temperatures. However, 10W40 is more suitable for heavy-duty engines or diesel engines. Therefore, it depends upon your vehicle.
Is 10W40 oil good for my car?
We recommend getting your car examined by a car expert to get to know whether this engine oil is suitable for your vehicle or not!
Is 10W40 thicker than 10W30 engine oil?
Yes, 10W40 engine oil is more viscous than the 10W30 engine oil. It outperforms 10W30 oil at higher temperatures.
Will using thicker oil damage my engine?
Using a thicker than the recommended oil can cause problems with your engine. Moreover, it also reduces fuel economy. Therefore, always use the right oil according to your vehicle specifications.
Can I use 10W40 instead of 10W30 oil?
If you own a high mileage vehicle, then both of these options are acceptable as long as they are compatible with your car.
What is the best brand for 10W40 oil?
We highly recommend using LIQUI MOLY Leichtlauf 10W40 engine oil for the best results. If you live in the UK, you can purchase this oil from here https://mycar.repair/uk/ at an affordable price.
What is 10W40 engine oil used for?
This engine oil is mostly used for hot climates and environments. Moreover, it suits heavy loads and heavy-duty vehicles.
Final Word
In a nutshell, using the right 10W40 engine oil in heavy-duty vehicles can exhibit the best performance. Moreover, it helps in cleaning the engine by removing deposits and sludge even at higher temperatures.
We recommend taking your vehicle to a car expert or checking online whether your car should use this oil or not. If yes, then try using our top pick recommendation of LIQUI MOLY for amazing results!